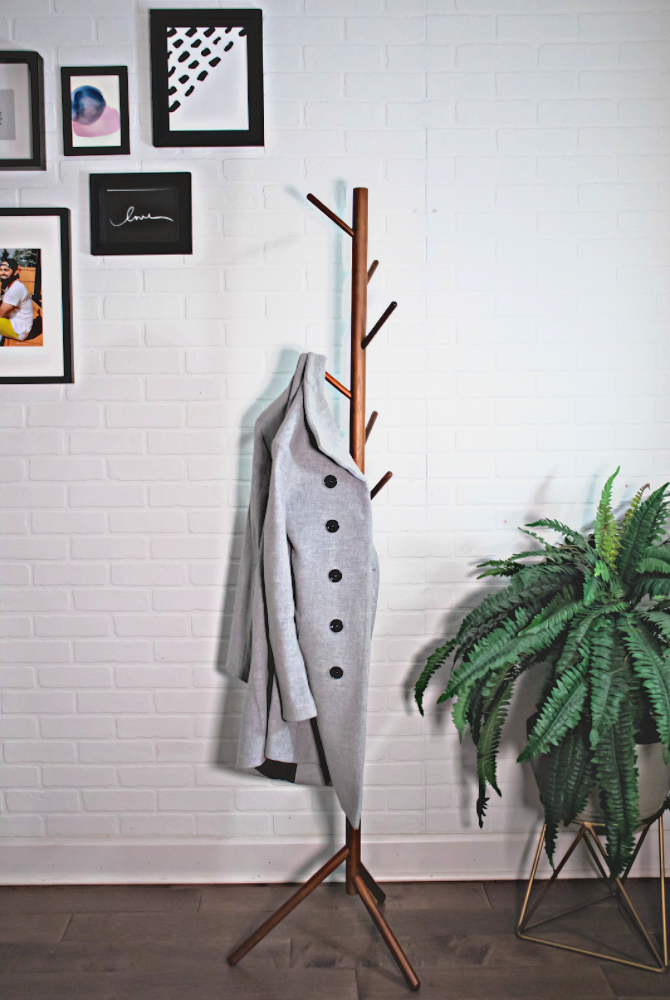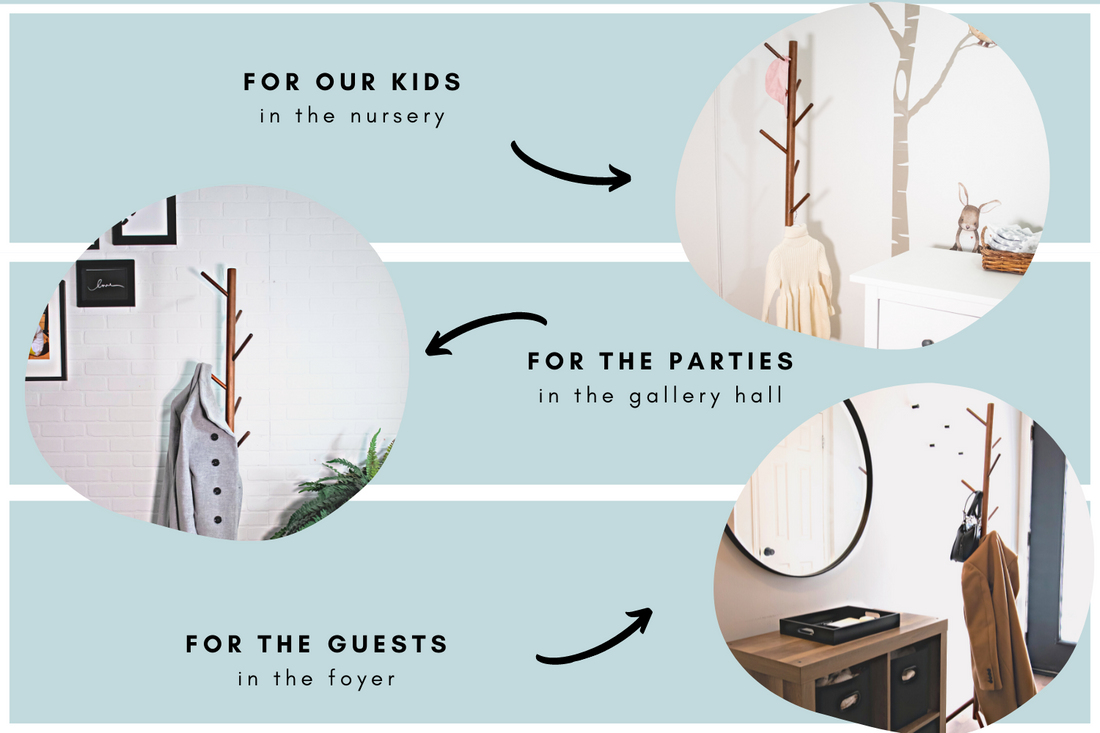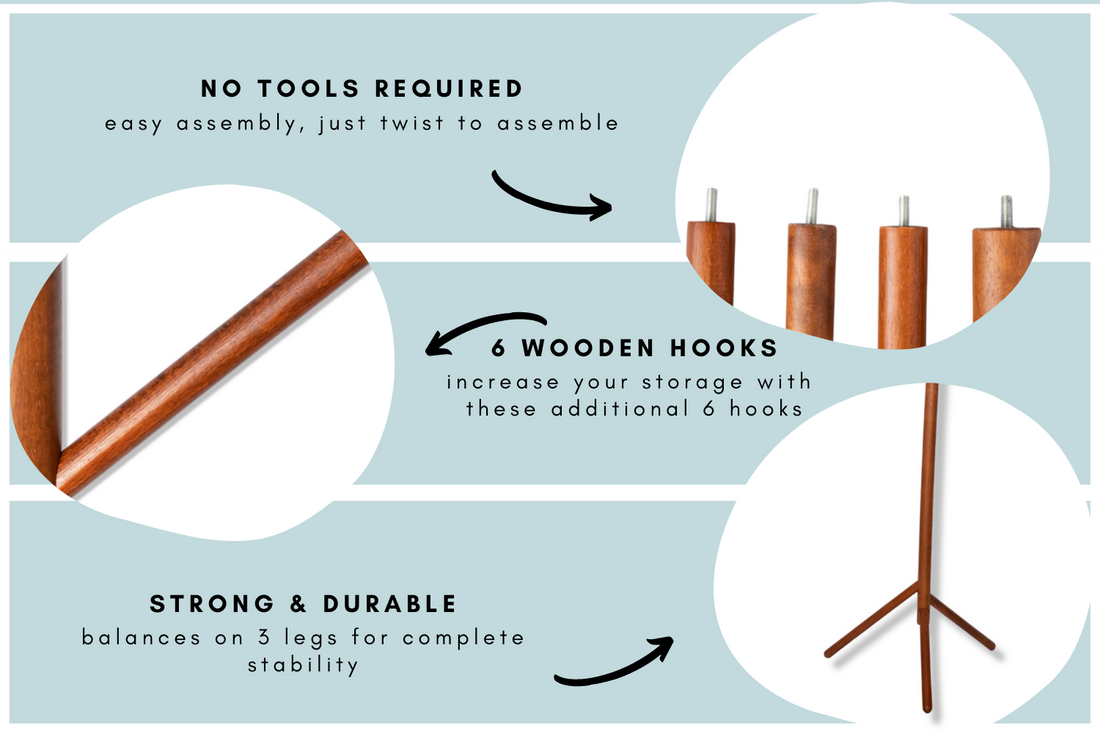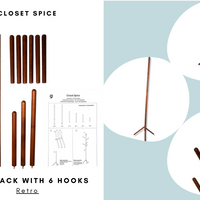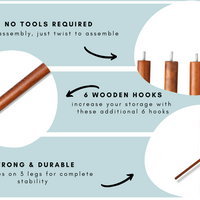 Coat Tree Rack - 6 Hooks - Retro
Don't have enough storage space? Our Closet Spice Coat Rack will give you instant storage when needed. Our design blends the functionality with minimalistic appeal. Our unique freestanding coat rack is not just your regular coat stand. It was designed with keeping the nature-inspired sculpture resembling a tree with branches that will certainly stand out in your entryway, hallway, or office.
It's strong, sturdy, solid wood tripod style base stays put, and with 6 wooden hooks, it's build to hold the heaviest jacket you can find in the North 🇨🇦.
• Easy to assemble coat stand in just few minutes, with 5 quick steps. A clear assembly instruction manual walks users clearly through the entire process available in English & French.

• These heavy duty coat tree rack features a thick solid wood body throughout its structure, with anti-rust chrome screws for assembly with extreme stability and high durability. Each of the hooks/pegs are built with the same premium wood and polished with lacquer for smooth and elegant finish.

• Available in 4 Colours: White, Black, Natural & Retro;
• Base Width with Feet: 18IN (45.7CM)
• Head with Hooks/Pegs Width: 8IN (20.3CM)
• Height with Feet: 68IN (172.7CM)
• Rack Thickness 1.25IN (3.17CM)
• Hooks/Pegs Length: 6IN (15.2CM)
• Can be used in any settings with minimum 8 feet height, Guaranteed!

• Freestanding coat rack with 6 hooks placed at various heights for hanging jackets, scarves, and more in an entryway, hallway, or office

• Made from solid wood with lacquer finish and featuring a distinctive tree branch-like shape for a contemporary look.

• Sturdy, with a tripod-style base that evenly distributes weight for stability, yet lightweight enough to be portable.

• The simple organizing solution to organize your coats, jackets, parkas, umbrellas, hats, bags, and so much more to neat up your foyer, hallway, restaurants, office, room, kids room.

• Sometimes simplicity is just the perfect combination to contain the mess in our life. This coat rack simplifies your surrounding, it helps contain the mess and gives back the much needed control in your space.
Made from premium solid hardwood with chrome plated screws with Anti-Rust properties.
• Wipe clean with a damp cloth
30 Days, no question ask.
Lost in transit? A replacement will be sent to you with no extra cost.
Broken pieces? Send us a quick email at info@closetspice.com with your order details and a replacement will be sent to you with no extra cost.
Why all this? We value your business and the trust you put in us. We do not want to serve you for just one time, we want to be your trusted resources for your storage & organization needs.