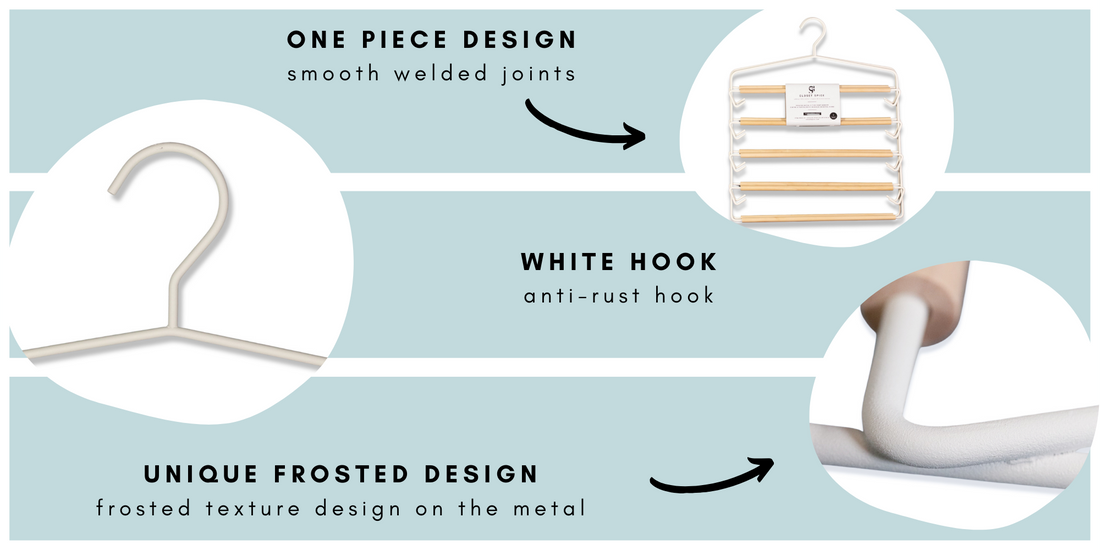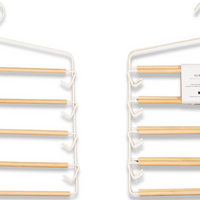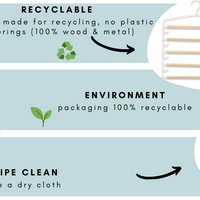 Frosted Metal 5 Tier Pant Hangers - Set of 2 (White/Natural)
Okay, do we need to talk about this dual colour, multi-tiered space saving combo? It's literally "All in One": Minimalistic yet Futuristic  🛴
It's everything what we envisioned it and came out to it's truest sketched form. These hangers are not just all about design & looks, it also has many jobs to do around your home, office, and yes at your guests as well as a gift 💡
Get creative 🧑‍🎨 with the available vertical space in your closet.
Tap below for the features, benefits, and more!
• Stores up to five pants or towels on one hanger

• Product Dimensions: 15.3"L x 18"H x 0.5"T | 38.9 cm x 45.7 cm x 1.27 cm

• Colour: White/Natural

• Set of 2 pcs.
• Save space in your closet while storing up to five pants or trousers with this innovative Five-Tier Pant Hanger.

• Saves valuable storage space along your closet rod - "imagine removing 8 hangers of your pants from your closet after having this set - that's the balance you've been missing"

• Strong enough to hang towels, light quilts, and throws "we are not even going to mention skirt or pants, because that's what this was made for"

• The tiered wooden bar keeps stored clothing items from slipping off the hanger arms
Iron from its core & wooden for it's looks. Can this be any more beautiful? Moulded from a single iron piece with untold welded finishing at the joints.
• Wipe clean with damp cloth
30 Days, no question ask.
Lost in transit? A replacement will be sent to you with no extra cost.
Broken pieces? Send us a quick email at info@closetspice.com with your order details and a replacement will be sent to you with no extra cost.
Why all this? We value your business and the trust you put in us. We do not want to serve you for just one time, we want to be your trusted resources for your storage & organization needs.