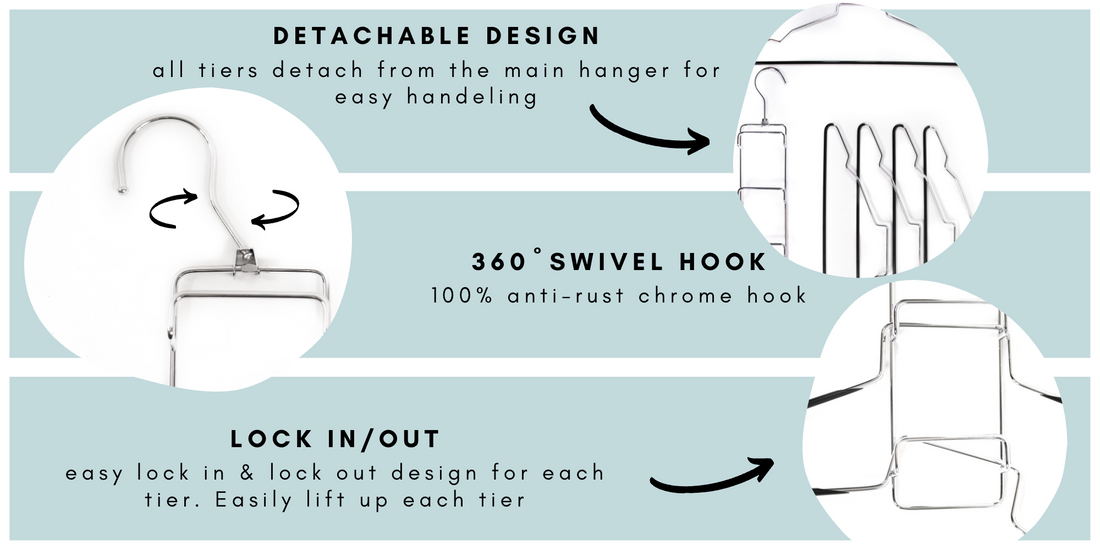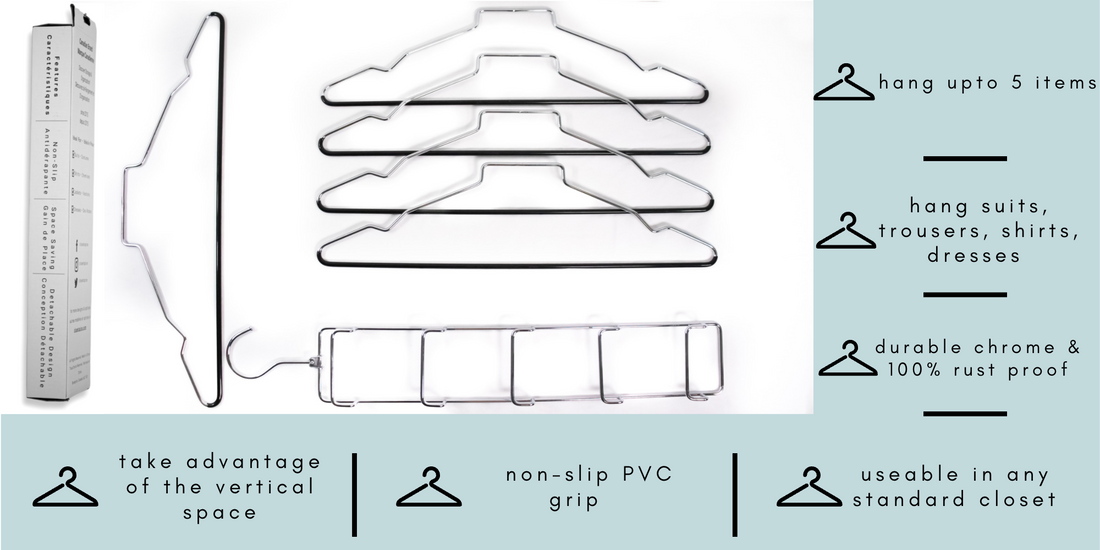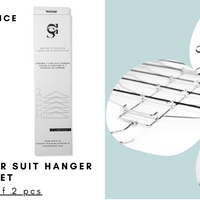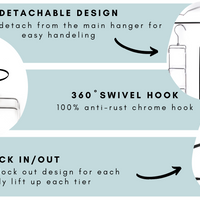 Chrome 5 Tier Suit Hangers - Set of 2 (Black)
First of all - let's talk about it's "Detachable Design". Yes, we just made that name up, because our team very thoughtfully created this design with respect to what we already have & sell in tier hangers.
Would you believe us, if we say we can pick up the arms of the hanger itself vs the whole hanger?

 

Yes, we can!!! This detachable design allows us to just lift the arms of the preferred cloth and after removal hang it back.

 
This hanger comes in 2 piece design, the base which itself is without the arms of this chrome suit hanger & the 2nd piece is the 5 arms that can be attached/detached to the base.
Tap below for the features, benefits, and more!
• Stores up to five blouses, suits, shirts, or blazers on just one hanger

• Hangs over any standard size closet rods

• Product Dimensions: 17"L x 23.5"H x 1.77"T

• Set of 2 pcs.
• Save space in your closet while storing up to five suits or shirts with this innovative Five-Tier Suit Hanger.

• Saves valuable storage space along your closet rod.

•Heavy-duty chromed metal construction provides lasting strength and durability

• The dipped PVC rubber cover keeps stored clothing items from slipping off the hanger arms
This metal suit hanger is constructed from sturdy chromed metal and features a PVC cover that is done via a dipped rubber solution over the arms of each chrome arms to minimize slipping off of the suit hangers and decrease creases of the clothes.
• Wipe clean with damp cloth.
30 Days, no question ask.
Lost in transit? A replacement will be sent to you with no extra cost.
Broken pieces? Send us a quick email at info@closetspice.com with your order details and a replacement will be sent to you with no extra cost.
Why all this? We value your business and the trust you put in us. We do not want to serve you for just one time, we want to be your trusted resources for your storage & organization needs.